Back to top
News and Announcements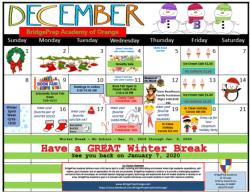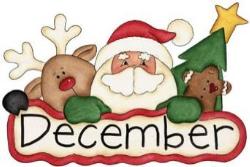 2019-2020 BPA of Orange December Calendar

Dates to remember:
12/09-12/13 Scholastic Book Fair - Grade level visitation times will change daily/please remember that this is an event that takes place during school hours- send all book money with your child before the beginning of each school day
12/11/19 - Parents are allowed to visit the Scholastic Book Fair with their child from 3:30-4:30 PM
12/12/19 - Texas Roadhouse Family Fundraiser Night from 4:00-8:00 PM - this is the first fundraiser in which our school participates in the TRH paperless initiative. Present the necessary flyer at checkout via the use of your mobile device for our school to receive a donation percentage from your meal's total cost. Flyer is up on the school website.
12/16-12/20 Winter Spirit Week - Monday: Wear your favorite winter socks/Tuesday: Wear your favorite winter hat/Wednesday: Wear your favorite winter sweater/Thursday:Wear your favorite winter pajamas/Friday:Wear your winter formal wear for your holiday classroom party.
Spanish:

Fechas para recordar:

12 / 09-12 / 13 Feria del Libro Scholastic - Los horarios de visitas de nivel de grado cambiarán diariamente / recuerde que este es un evento que ocurre durante el horario escolar - envíe todo el dinero del los libros con su hijo antes del comienzo de cada día escolar

12/11/19 - Los padres pueden visitar la Feria del Libro Scholastic con sus hijos de 3: 30-4: 30 PM

12/12/19 - Noche de recaudación de fondos de Texas Roadhouse de 4: 00-8: 00 PM - esta es la primera recaudación de fondos en la que nuestra escuela participa en la iniciativa sin papel de TRH. Presente el volante necesario al finalizar la compra mediante el uso de su dispositivo móvil para que nuestra escuela reciba un porcentaje de donación del costo total de su comida. El volante está en el sitio web de la escuela.

12 / 12-12 / 20 Winter Spirit Week - Lunes: Use sus calcetines de invierno favoritos / Martes: Use su sombrero de invierno favorito / Miércoles: Use su suéter de invierno favorito / Jueves: Use su pijama de invierno favorito / Viernes: Use su ropa formal de invierno para tu fiesta de salón de clases.