BPA 2019-2020 Ibiley Summer Uniform Sale Dates

Tue, Jul 16, 10:00am - 5:00pm

Wed, Jul 17, 10:00am - 5:00pm

Thu, Jul 18, 10:00am - 5:00pm

Wed, Aug 7, 10:00am - 5:00pm

Thu, Aug 8, 10:00am - 5:00pm

BridgePrep Uniforms

The 2019-2020 school year is quickly approaching...we can't wait to see you all in your BridgePrep gear!! Get your uniforms today!
#BridgePrepUniforms #BridgePrepAcademy #BridgePrepBulldogs

Supply Lists 2019-2020

Your 2019-2020 school supply lists are here!!
Start your school supply shopping early. We can't wait to see you all soon!

BPA 2019-2020 School Supply List- All Grade Levels

See attachment linked.

AstroSkate Camo and 4th of July Celebration Information!

CELEBRATE
4th of July with ASTRO SKATE!

Thursday, July 4
1:00pm - 5:00pm
$6.00 (skate rental extra)

WACKY MEGA HOT DOG FEST
All You Can Eat Hot Dogs!
Eat them with WACKY toppings - strawberries, chocolate syrup, and more!!

‌
ASTRO CAMPERS AND A GUEST SKATE FOR FREE
ON 4TH OF JULY!

Our Astro Campers and a guest skate for free on the 4th of July!

Want more information about our camp?
Camp is for ages 5-11, Monday through Friday.
It's only $20 for the day, or $85 for the week!
No advanced registration required!
All campers must arrive by 9am with a fully packed lunch!
VISIT OUR WEBSITE

ASTRO SKATING CENTER | www.AstroSkatingCenter.com

Show All »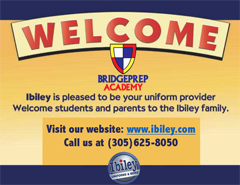 Buy your BridgePrep uniforms today!
Featured Albums
Principal Honor Roll

BPA 5th Grade Promotion