Back to top
News and Announcements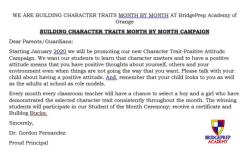 BPA of Orange 2019-2020 Building Character Traits Month by Month

BUILDING CHARACTER TRAITS MONTH BY MONTH CAMPAIGN
Dear Parents/Guardians:
Starting January 2020 we will be promoting our new Character Trait-Positive Attitude Campaign. We want our students to learn that character matters and to have a positive attitude means that you have positive thoughts about yourself, others and your environment even when things are not going the way that you want. Please talk with your child about having a positive attitude. And, remember that your child looks to you as well as the adults at school as role models.
Every month every classroom teacher will have a chance to select a boy and a girl who have demonstrated the selected character trait consistently throughout the month. The winning students will participate in our Student of the Month Ceremony; receive a certificate and Bulldog Bucks.
Sincerely,
Dr. Gordon Fernandez
Proud Principal